'); } var S; S=topJS(); SLoad(S); //-->
---
What Color Is Your Sand Castle?


Print What Color Is Your Sand Castle? Reading Comprehension with Third Grade Work

Print What Color Is Your Sand Castle? Reading Comprehension with Fourth Grade Work

Print What Color Is Your Sand Castle? Reading Comprehension with Fifth Grade Work

Print What Color Is Your Sand Castle? Reading Comprehension




A Very Quick Reader

Reading Level

| | | |
| --- | --- | --- |
| | edHelper's suggested reading level: | grades 3 to 5 |
| | Flesch-Kincaid grade level: | 2.73 |

Vocabulary

| | | | |
| --- | --- | --- | --- |
| | challenging words: | | ground-up, gypsum, hawaii, silica, reefs, beneath, quartz, volcanic, rocks, soft, form, what, near, often, also, different |
| | content words: | | White Sands National Monument, New Mexico, Pacific Islands |
---
What Color Is Your Sand Castle?
By Colleen Messina
---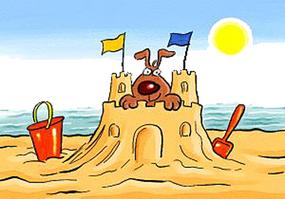 1
What is soft and warm beneath your feet at the beach? It is sand, of course. Sand can be very different. Sand can be coarse. Sand can be fine. Sand is made up of tiny pieces of rocks and minerals. Many white sand beaches have sand that is made of quartz. Sand comes in many colors. Some sand is dazzling white like the sand dunes at White Sands National Monument in New Mexico. Those sand dunes are made of gypsum. Fine white sand is also found near coral reefs. It is often made of ground-up coral. Some sands are dark.
.....For the complete story with questions: click here for printable
---
Weekly Reading Books
---
Feedback on What Color Is Your Sand Castle?


---
Summer



Copyright © 2017 edHelper