'); } var S; S=topJS(); SLoad(S); //-->
---
Uranus
Reading Level

| | | |
| --- | --- | --- |
| | edHelper's suggested reading level: | grades 2 to 4 |
| | Flesch-Kincaid grade level: | 3.46 |

Vocabulary

| | | | |
| --- | --- | --- | --- |
| | challenging words: | | image, spacecraft, rings, winds, canyons, billion, lasts, surface, giant, during, blue-green, photo, barrel, visit, pole, spin |
| | content words: | | Photo Credit, NASA/Space Telescope Science Institute, Hubble Space Telescope, Grand Canyon |
---
Print Uranus

Quickly Print

Proofreading Activity


---
Uranus
By Kathleen W. Redman
---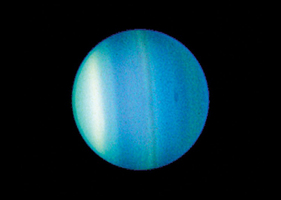 1
Photo Credit: NASA/Space Telescope Science Institute: This 2006 image was taken by the Hubble Space Telescope.
2
Our spacecraft is taking us away from Saturn. Next, we will visit Uranus. Uranus is the seventh planet from the Sun. It is much larger than the Earth.
3
Uranus is the only planet that seems to be lying on its side. It does not spin like a top. It rolls on its side like a barrel. No one knows for sure why it is tipped over. Some scientists think that an Earth-sized object may have hit Uranus.
Paragraphs 4 to 10:
For the complete story with questions: click here for printable
---
Weekly Reading Books
---
Feedback on Uranus


---
Solar System


---
Science





Copyright © 2017 edHelper