'); } var S; S=topJS(); SLoad(S); //-->
---
Why Is Billy Such a Bully?


Print Why Is Billy Such a Bully? Reading Comprehension with First Grade Work

Print Why Is Billy Such a Bully? Reading Comprehension with Second Grade Work

Print Why Is Billy Such a Bully? Reading Comprehension with Third Grade Work

Print Why Is Billy Such a Bully? Reading Comprehension




A Short Reader

Reading Level

| | | |
| --- | --- | --- |
| | edHelper's suggested reading level: | grades 1 to 3 |
| | Flesch-Kincaid grade level: | 2.17 |

Vocabulary

| | | | |
| --- | --- | --- | --- |
| | challenging words: | | class, bullies, bully, kids, picks, also, angry, attention, become, deserve, feel, fight, friend, hair, hard, house |
---
Why Is Billy Such a Bully?
By Erin Horner
---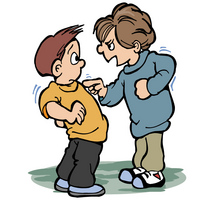 1
Billy is a boy in my class. I would like to be his friend, but he is a big bully! He picks on other kids. He calls them names. He teases them about their hair and clothes. Why is Billy such a bully?
2
My mom said that bullies are mean to people because they want attention. I would rather get attention because I am kind and fun. Mom also said that bullies feel powerful when they treat others poorly. I think that's silly. I wouldn't feel powerful if I acted like that. I would just feel sad. My mom told me that some bullies are angry because they don't know how to be kind. She said that some kids live in homes where people fight and use unkind words all the time. These kids don't know how to treat others with respect. They haven't learned how to. I thought a lot
.....For the complete story with questions: click here for printable
---
Weekly Reading Books
---
Feedback on Why Is Billy Such a Bully?


---
Bullying


---
More Lessons



Copyright © 2017 edHelper