'); } var S; S=topJS(); SLoad(S); //-->
---
Jawahir Suffers in Somalia
Reading Level

| | | |
| --- | --- | --- |
| | edHelper's suggested reading level: | grades 4 to 6 |
| | Flesch-Kincaid grade level: | 6 |

Vocabulary

| | | | |
| --- | --- | --- | --- |
| | challenging words: | | unclean, warfare, malnourished, cholera, diarrhea, camps, clan, camp, affects, emergency, especially, ongoing, easily, suffer, unhealthy, schools |
| | content words: | | United States, Family Relief Kits |
---
Print Jawahir Suffers in Somalia

Quickly Print - PDF format

Quickly Print - HTML format

Proofreading Activity


---
Feedback on Jawahir Suffers in Somalia


---
Jawahir Suffers in Somalia
By Jennifer Kenny
---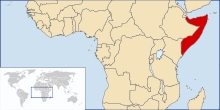 1 Jawahir lives in a camp. It's not the kind of camp that you may be thinking of. It is not a day camp or summer camp. Instead it is a camp that is a shelter for Jawahir and his mother and siblings. It is meant to give his family some food, water, and a place to sleep.

2 Jawahir lives in Somalia. Somalia is a country on the continent of Africa. According to the CIA in the United States, there are about 9 million people who live in Somalia. That number is probably not exact. It is hard to get an exact number of people in Somalia because many of the people are nomads or refugees. Nomads are people who wander from place to place. Refugees are people who are forced to leave their home. They move around a great deal and look for help because of the terrible famine and clan warfare in Somalia.

3 Much of the fighting involves which group will lead the country and where different borders lie for control. Fighting is very difficult in the capital of Mogadishu. Very often, the women and children leave to escape the violence while the men remain fighting. This often leaves families such as Jawahir's family looking for food, water, shelter, and health care. In some places in Somalia, camps receive help from organizations such as UNICEF. UNICEF aid workers try to truck in water and food to the camps. Water is life to all people, but especially those at the camps. If water is not brought in, some places would have no running water at all. In other places people can get very sick because they have no clean water. In crowded conditions, such as these camps, diseases can spread quickly. If people have no clean water, they will suffer from diarrhea again and again. Cholera, a rising concern in Somalia, is an example of one disease spread in unclean water.

Paragraphs 4 to 10:
For the complete story with questions: click here for printable


Extended Activities:

1. Research the fighting in Somalia. Write one paragraph describing the situation.

2. Look up Somalia in an encyclopedia or on a map. Draw an outline of the country.

3. Parts of Somalia suffer from severe flooding. Find out why.

4. Find out what UNICEF is. How does it help children?



---
Weekly Reading Books
---
More Lessons


---
More Activities, Lesson Plans, and Worksheets




Copyright © 2011 edHelper