'); } var S; S=topJS(); SLoad(S); //-->
---
Behavior - It Is a Choice!

A Short Reader

Reading Level

| | | |
| --- | --- | --- |
| | edHelper's suggested reading level: | grades 2 to 4 |
| | Flesch-Kincaid grade level: | 2.58 |

Vocabulary

| | | | |
| --- | --- | --- | --- |
| | challenging words: | | behavior, kids, doing, behave, earn, helpful, follow, able, line, speak, move, raise, worth, know, choice, while |
---
Print Behavior - It Is a Choice!

Quickly Print - PDF format

Quickly Print - HTML format

Proofreading Activity


---
Feedback on Behavior - It Is a Choice!


---
Behavior - It Is a Choice!
By Mary Perrin
---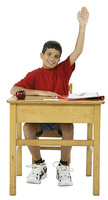 1
Do you know kids who always behave themselves? They eat their lunch using good table manners. They raise their hands when the teacher asks a question. They walk in line quietly down the hall. Some kids are able to control themselves very well. How do they do it? They practice. They control how their bodies move. They control what their minds think. They control the words they speak. No one is perfect. Everyone goofs off every once in a while. But everyone is able to behave most of the time.
2
Behavior is a choice. You are the only one who can make the choice to behave. You are expected to have good behavior. Your parents set rules for you. Your teachers set rules for the class. You have good behavior if you
.....For the complete story with questions: click here for printable
---
Weekly Reading Books
---
More Lessons


---
More Activities, Lesson Plans, and Worksheets




Copyright © 2011 edHelper