'); } var S; S=topJS(); SLoad(S); //-->
---
Every Thing Needs Food

A Short Reader

Reading Level

| | | |
| --- | --- | --- |
| | edHelper's suggested reading level: | grades 1 to 3 |
| | Flesch-Kincaid grade level: | 3.16 |

Vocabulary

| | | | |
| --- | --- | --- | --- |
| | challenging words: | | bears, cows, like, already, animal, another, ball, chain, chicken, corn, dead, different, fish, food, grass, living |
---
Print Every Thing Needs Food

Quickly Print - PDF format

Quickly Print - HTML format

Proofreading Activity


---
Feedback on Every Thing Needs Food


---
Every Thing Needs Food
By Cindy Grigg
---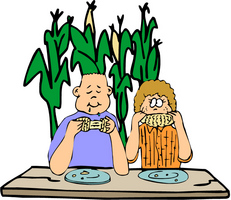 1
Do you like to ride a bike? Do you like to throw a ball? Do you like to run and play? How do you get the energy to do all these things? You get energy from food.
2
All living things need food. Plants and animals need energy to grow. Food gives them energy. Plants can make their own food. They do it by using light from the sun.
3
Animals can't make their own food. They must eat or consume food so they can live. Animals are called consumers. Some animals eat plants. Cows eat grass. Some animals eat other animals. Chickens eat insects.
Paragraphs 4 to 5:
For the complete story with questions: click here for printable
---
Weekly Reading Books
---
More Activities, Lesson Plans, and Worksheets




Copyright © 2011 edHelper