'); } var S; S=topJS(); SLoad(S); //-->
---
An Afghan Girl Goes to School


Print An Afghan Girl Goes to School Reading Comprehension with Fourth Grade Work

Print An Afghan Girl Goes to School Reading Comprehension with Fifth Grade Work

Print An Afghan Girl Goes to School Reading Comprehension with Sixth Grade Work

Print An Afghan Girl Goes to School Reading Comprehension



Reading Level

| | | |
| --- | --- | --- |
| | edHelper's suggested reading level: | grades 4 to 6 |
| | Flesch-Kincaid grade level: | 6.13 |

Vocabulary

| | | | |
| --- | --- | --- | --- |
| | challenging words: | | backdrop, chapli, cumin, helping, occupation, semiprecious, sky-blue, achievement, agriculture, petroleum, rugged, typhoid, education, unexpected, spite, sheer |
| | content words: | | United States, When Saida |
---
An Afghan Girl Goes to School
By Colleen Messina
---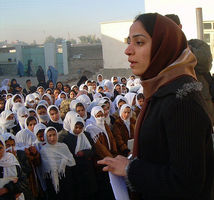 1 Saida ran over to the man who stood by her brother's grave. Her dark hair whipped through the wind even though her head was covered with a bright red and white scarf. Her sky-blue eyes brimmed over with tears. She boldly pulled on the man's shirt sleeve because she had something important to say.

2 Saida said, "I don't have any more brothers. I want to go to school." The man looked down at the 12-year-old girl. He was building a school close by. He knew that education was the key to rebuilding Afghanistan. And right in front of him, Saida's hopeful face showed her intense desire for an education.

3 Saida got her wish and was able to go to school. It helped her forget the sadness of her past. Today, her country is dotted with red, green, and yellow flags flying over grave sites. Saida's brother's grave is marked only with a small stone. Saida still cries when she thinks about him. He was killed by a land mine while he was herding the family's goats. Saida also lost two other brothers who died of typhoid. Saida's desire to go to school was greater than her fear of talking to the American man who visited her brother's grave, and now she is happy that she did.

Paragraphs 4 to 10:
For the complete story with questions: click here for printable


Extended Activities:

1. Research other Afghan food than was mentioned in the article. Pretend that you are opening up an Afghan restaurant in your town and write down your star menu. Include an appetizer, a main course, a side dish, a dessert, and a beverage. Also decide on the name of your restaurant.

2. Pretend that you are organizing the music for an Afghan cultural fair. Draw a picture and write a description of an Afghan musical instrument. Include a couple of sentences about the history of the instrument.

3. Write the resume of an Afghan woman who came to America to find a job. Include a section about how overcoming the challenges to get to America strengthened her. Write the resume in the first person form.



---
Weekly Reading Books
---
Feedback on An Afghan Girl Goes to School



Copyright © 2018 edHelper