'); } var S; S=topJS(); SLoad(S); //-->
---
Teesha Drinks Clean Water


Print Teesha Drinks Clean Water Reading Comprehension with First Grade Work

Print Teesha Drinks Clean Water Reading Comprehension with Second Grade Work

Print Teesha Drinks Clean Water Reading Comprehension with Third Grade Work

Print Teesha Drinks Clean Water Reading Comprehension



Reading Level

| | | |
| --- | --- | --- |
| | edHelper's suggested reading level: | grades 1 to 3 |
| | Flesch-Kincaid grade level: | 3.58 |

Vocabulary

| | | | |
| --- | --- | --- | --- |
| | challenging words: | | bowls, cholera, drilled, equipment, ethnic, gospel, jazz, juju, kinds, malaria, saying, typhus, wells, water, drink, alive |
| | content words: | | West Africa |

Other Languages
French: Teesha boit de l'eau propre
Spanish: Teesha bebe agua limpia
Italian: Teesha beve acqua pulita
German: Teesha trinkt sauberes Wasser


---
Teesha Drinks Clean Water
By Colleen Messina
---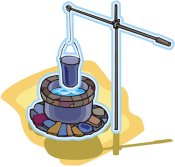 1
Teesha takes a drink of cold, clean water. She is surprised at how good it tastes. In her village in Africa, she often did not have clean water to drink.
2
Teesha is ten years old. She lives in Nigeria. She used to collect water from a ditch near her home. The water was brown. It had a funny smell. Teesha's name means "alive and well." But the bad water often made her feel sick.
3
Many families in Africa have to walk for miles to get water. They get water from streams. They get water from lakes. They use this water for cooking. They use it for baths. They use it to wash clothes. The water is not clean. The bad water makes people sick. They can get diseases. They can get typhus. They can get cholera. They can also get malaria. Teesha's own brother died from cholera. He was only six years old. Teesha's mother cried for many months.
Paragraphs 4 to 8:
For the complete story with questions: click here for printable

Extended Activities:

1. Track your use of water for one day by writing it down on a chart. Try to estimate the amount of water you use for different activities. Were you surprised by how much water you used? Write down at least two ways that you could conserve water in daily activities.

2. Africa has many wild animals. Draw a picture and write a description of your favorite animal from Africa. If you are doing this activity in a group, pretend that you are in a zoo. Each "animal" can take a turn telling the others a little bit about himself or herself. Be sure to add sound effects to your presentations!

3. What is your favorite kind of music? Write about why you like it. If you play an instrument, write about why you like that instrument and draw a picture of it. If you do not play an instrument, write about an instrument you would like to learn to play and draw a picture of it.


---
Weekly Reading Books
---
Feedback on Teesha Drinks Clean Water


---
More Lessons



Copyright © 2018 edHelper