'); } var S; S=topJS(); SLoad(S); //-->
---
An American Family Visits the Food Bank


Print An American Family Visits the Food Bank Reading Comprehension with Fourth Grade Work

Print An American Family Visits the Food Bank Reading Comprehension with Fifth Grade Work

Print An American Family Visits the Food Bank Reading Comprehension with Sixth Grade Work

Print An American Family Visits the Food Bank Reading Comprehension



Reading Level

| | | |
| --- | --- | --- |
| | edHelper's suggested reading level: | grades 4 to 6 |
| | Flesch-Kincaid grade level: | 6.08 |

Vocabulary

| | | | |
| --- | --- | --- | --- |
| | challenging words: | | salary, opportunity, unexpected, insurance, supermarket, natural, dental, budget, meals, volunteer, jobs, health, pallets, strained, however, order |
| | content words: | | United States Department, United States |

Other Languages
French: Une Famille Américaine rend visite à la Banque Alimentaire
Spanish: Una familia americana visita el banco alimentario
Italian: Una famiglia americana fa visita al banco alimentare.
German: Eine amerikanische Familie besucht den Tafelladen


---
An American Family Visits the Food Bank
By Colleen Messina
---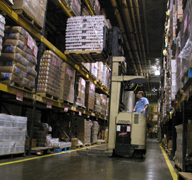 1 America has been called the land of opportunity, and it is easy to believe that everyone in America has the basics of life. Many people think that hungry children only exist in third world countries. However, many people struggle in America to pay their bills. Many families do not have enough food to eat. Rebecca and her family understand that even Americans face the challenges of hunger, too.

2 Many families have unexpected events happen that make it impossible for one person to work. This might be an unexpected illness or a natural disaster. Even a large car repair bill can make a family's budget strained. Rebecca's father had an accident at work so he had to stay home for a while. Even though Rebecca's mother had a job, her salary didn't cover all of their bills.

3 At first, Rebecca's mother tried to solve the problem herself. Sometimes, she didn't eat so that her children had meals. She tried to do her own dental work. She sold family heirlooms, like her mother's watch, in order to buy groceries. She also tried to shop around for the best prices, but it still was not enough. Finally, Rebecca's mother confided in a friend. The friend had a great suggestion. She reminded Rebecca's mom about a food bank in town. Rebecca's family finally was able to get more groceries.

Paragraphs 4 to 8:
For the complete story with questions: click here for printable


Extended Activities:

1. Assemble a sample of ten items that would be a good selection to pick during a shopping expedition from the food bank. Look up the five major food groups and try to balance your selections from these five groups. Or, draw a picture of a shopping cart with a balanced selection of 10 items from the food bank in it.

2. Design a pamphlet to hand out to local individuals who might need the assistance of a food bank. Also decide on three places in your community where the pamphlet would go so that the people who needed it could find it. Include a description of the food bank and make your pamphlet friendly and informative so that people would be happy to visit the food bank.

3. Prepare a short presentation for volunteers at a food bank. Include the procedure they would use for helping people as well as at least three ways that the people could feel welcomed, comfortable, and respected during their visit.



---
Weekly Reading Books
---
Feedback on An American Family Visits the Food Bank


---
More Lessons



Copyright © 2018 edHelper