'); } var S; S=topJS(); SLoad(S); //-->
---
Saida Goes to School in Afghanistan


Print Saida Goes to School in Afghanistan Reading Comprehension with First Grade Work

Print Saida Goes to School in Afghanistan Reading Comprehension with Second Grade Work

Print Saida Goes to School in Afghanistan Reading Comprehension with Third Grade Work

Print Saida Goes to School in Afghanistan Reading Comprehension



Reading Level

| | | |
| --- | --- | --- |
| | edHelper's suggested reading level: | grades 1 to 3 |
| | Flesch-Kincaid grade level: | 3.24 |

Vocabulary

| | | | |
| --- | --- | --- | --- |
| | challenging words: | | brothers, caption, celebration, education, jobs, kabob, kabobs, likes, natural, petroleum, sheer, span, tasty, traditional, vanilla, yakh |
| | content words: | | Twelve-year-old Saida |

Other Languages
Spanish: Saida va a la escuela en Afganistán


---
Saida Goes to School in Afghanistan
By Colleen Messina
---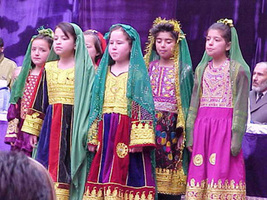 1
Caption: Afghan girls wearing traditional clothing sing at a celebration of International Women's Day, March 8
2
You might not feel like going to school every day. But did you know that a little girl in Afghanistan wanted to go to school so badly that she told a stranger about it?
3
Saida lives in Afghanistan. A man came to her village and built a school. Saida told this man, "I don't have any more brothers. I want to go to school!" One of Saida's brothers had died because of the fighting in her country. Her family was very sad. Twelve-year-old Saida felt that going to school would help her future.
Paragraphs 4 to 10:
For the complete story with questions: click here for printable

Extended Activities:

1. Pretend that Saida is coming over to your house for dinner. Write a menu of your favorite foods that you would serve to her.

2. Imagine that you were rich and decided to build a new playground for Saida's school. Draw a map and label the kinds of equipment you would put on her new playground.

3. Write a story about what Saida decided to study. What do you think that Saida will be when she grows up? Will she stay in Afghanistan or go somewhere else?


---
Weekly Reading Books
---
Feedback on Saida Goes to School in Afghanistan


---
More Lessons



Copyright © 2018 edHelper