'); } var S; S=topJS(); SLoad(S); //-->
---
What Is Paper-mache?


Print What Is Paper-mache? Reading Comprehension with Fourth Grade Work

Print What Is Paper-mache? Reading Comprehension with Fifth Grade Work

Print What Is Paper-mache? Reading Comprehension with Sixth Grade Work

Print What Is Paper-mache? Reading Comprehension



Reading Level

| | | |
| --- | --- | --- |
| | edHelper's suggested reading level: | grades 4 to 6 |
| | Flesch-Kincaid grade level: | 5.22 |

Vocabulary

| | | | |
| --- | --- | --- | --- |
| | challenging words: | | icons, imperial, lacquer, versatile, material, project, basis, artists, easily, beagle, lasted, works, races, fond, paste, chewed-up |
| | content words: | | Imperial Russian, Great Britain, Maria Therese, Nathaniel Holmes Bishop, New York, Paper Canoe |

Other Languages
Spanish: ¿Qué es el Papel Maché?


---
What Is Paper-mache?
By Colleen Messina
---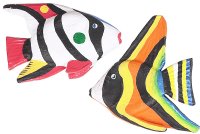 1 I will never forget my first paper-mache project. It started out as a giraffe, but it ended up being a four-foot figure of Charlie Brown's beagle, Snoopy. He was easy to make, but then we had to figure out how to get Snoopy to school. My mother finally put it in the car with a seat belt! My paper-mache Snoopy made me famous in fourth grade. He was so simple to make that paper-mache became one of my favorite art projects.

2 Paper-mache means "chewed paper" in French. Paper strips are held together with wet paste. When it dries, it makes solid objects that can be painted. Often, objects like balloons are used to form the basic shape of paper-mache projects. The materials are easy to find, and paper-mache is a versatile craft. It can create almost anything. And the best thing about paper-mache is that there is no wrong way to do it.

3 Paper-mache has been used by different cultures for hundreds of years. Imperial Russian artists in the 18th century perfected one kind of paper-mache. At first, they used paper-mache to create religious icons. Later, artists made special paper-mache boxes, trays, and desk sets. After the artists made the objects, they painted them with black lacquer. Then, the artist painted scenes on the shiny black surface. This kind of art was called Russian lacquer art.

Paragraphs 4 to 7:
For the complete story with questions: click here for printable


---
Weekly Reading Books
---
Feedback on What Is Paper-mache?


---
More Lessons



Copyright © 2018 edHelper