'); } var S; S=topJS(); SLoad(S); //-->
---
What Are Pastels?


Print What Are Pastels? Reading Comprehension with Fourth Grade Work

Print What Are Pastels? Reading Comprehension with Fifth Grade Work

Print What Are Pastels? Reading Comprehension with Sixth Grade Work

Print What Are Pastels? Reading Comprehension



Reading Level

| | | |
| --- | --- | --- |
| | edHelper's suggested reading level: | grades 4 to 6 |
| | Flesch-Kincaid grade level: | 7.19 |

Vocabulary

| | | | |
| --- | --- | --- | --- |
| | challenging words: | | binder, realistic, versatile, powdery, rediscovered, multicolored, honesty, pastel, unique, charcoal, artists, especially, easily, artwork, nickname, medium |
| | content words: | | South France, South Africa, Rosalba Carreira, Edgar Degas |

Other Languages
Spanish: ¿Qué Son los Lápices Pastel?


---
What Are Pastels?
By Colleen Messina
---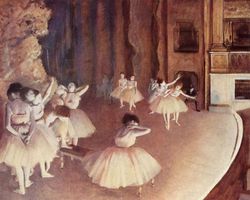 1 Pastels are colored, powdery sticks that can make many kinds of drawings. Many artists like pastels because they are a versatile medium. Pastels can be blended, but they can also create sharp lines. And pastels have the added benefit of making your fingertips rainbow colors!

2 Pastels are formed by combining powdered pigments with a binder like gum. Pastels are different than chalk or charcoal. Artwork created with pastels doesn't crack, fade, yellow, or darken. Pastels always look vivid and bright. Pastels can be rubbed, smeared, and blended easily to create unique pictures.

3 The forerunners of modern pastels go back to about 15,000 B.C. Primitive artists drew cave drawings in Spain, southern France, and South Africa. They used burnt bones mixed with earth pigments to make drawings of bison, elk, and other animals. Their drawings looked surprisingly real!

Paragraphs 4 to 8:
For the complete story with questions: click here for printable


---
Weekly Reading Books
---
Feedback on What Are Pastels?


---
More Lessons



Copyright © 2018 edHelper