'); } var S; S=topJS(); SLoad(S); //-->
---
Stinky Air, Get Away from There!


Print Stinky Air, Get Away from There! Reading Comprehension with First Grade Work

Print Stinky Air, Get Away from There! Reading Comprehension with Second Grade Work

Print Stinky Air, Get Away from There! Reading Comprehension with Third Grade Work

Print Stinky Air, Get Away from There! Reading Comprehension



Reading Level

| | | |
| --- | --- | --- |
| | edHelper's suggested reading level: | grades 1 to 3 |
| | Flesch-Kincaid grade level: | 3.53 |

Vocabulary

| | | | |
| --- | --- | --- | --- |
| | challenging words: | | people, asthma, carbon, dioxide, especially, europe, nitrogen, poof, respiratory, scratchy, stinky, whew, december, ache, already, also |
| | content words: | | Great London Smog, Clean Air Act, United States, Air Act |
---
Stinky Air, Get Away from There!
By Colleen Messina
---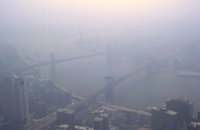 1
In 1952, the people of London had a cold day. December 5 was chilly and clear. The people shoveled more coal than ever into their fires. Poof! Soon, lots of smoke covered London. It was as thick as pea soup. Many people died from the Great London Smog.
2
Everyone needs clean, fresh air. The people of London learned about how air pollution can hurt them. They passed a law called the Clean Air Act. The law made sure people used less coal. Then, their city would have less smog. Smog is polluted air. They made sure that the stinky air went away from there! Europe has a lot of air pollution. One study estimated that over 300,000 people die each year because of it.
3
Air is made up of gases and particles. Some of these gases are nitrogen, oxygen, and carbon dioxide. Air pollution happens when people add more gases and particles to the air. It comes from traffic. It comes from factories. This smoggy air causes many health problems.
Paragraphs 4 to 8:
For the complete story with questions: click here for printable

Extended Activities:

1. Keep a log for one day of your family's car usage. At the end of the day, study your log. See if you can find ways that your family could drive your car less. Write up your recommendations.

2. Think about the two most important things that people need for a healthy, happy life. Design a poster about these two things. Illustrate your ideas in a colorful way.


---
Weekly Reading Books
---
Feedback on Stinky Air, Get Away from There!


---
More Lessons



Copyright © 2018 edHelper