'); } var S; S=topJS(); SLoad(S); //-->
---
Neighbors Living Near a Nuclear Power Plant


Print Neighbors Living Near a Nuclear Power Plant Reading Comprehension with Fourth Grade Work

Print Neighbors Living Near a Nuclear Power Plant Reading Comprehension with Fifth Grade Work

Print Neighbors Living Near a Nuclear Power Plant Reading Comprehension with Sixth Grade Work

Print Neighbors Living Near a Nuclear Power Plant Reading Comprehension



Reading Level

| | | |
| --- | --- | --- |
| | edHelper's suggested reading level: | grades 4 to 6 |
| | Flesch-Kincaid grade level: | 5.16 |

Vocabulary

| | | | |
| --- | --- | --- | --- |
| | challenging words: | | burning, containment, radioactivity, reactor, what-ifs, evacuate, generate, nuclear, respiratory, terrorist, greenhouse, core, aircraft, emergency, radioactive, uranium |
| | content words: | | New York, Indian Point, New York City |
---
Neighbors Living Near a Nuclear Power Plant
By Jennifer Kenny
---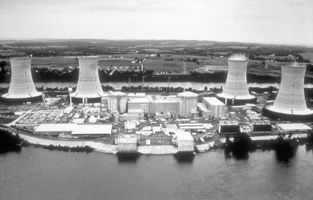 1 Bob and Jill are next-door neighbors in New York. One evening, Jill was walking outside and ran into Bob.

2 "Hi, Jill," Bob said. "How are things?"

3 "Fine, Bob," Jill answered. "How are you?"

4 "I'm fine," Bob responded. "Where are you off to?"

5 "You don't really want to know, Bob," Jill said. "We've had this conversation before."

6 "Don't tell me you are headed to the meeting about the nuclear power plant. I told you it's perfectly safe," Bob said.

7 "Bob," Jill asked, "why do you think it's so safe?"

8 Bob answered, "The energy that is generated is efficient. Nuclear reactors need little fuel. The waste produced is so much smaller than that at a coal-burning plant. The chance of getting sick from a nuclear power plant accident is a lot less than from dying of a respiratory illness caused by a coal burning plant. Nuclear power plants don't produce carbon dioxide, so they do not add to the greenhouse effect or cause acid rain."

Paragraphs 9 to 17:
For the complete story with questions: click here for printable


Extended Activities:

1. Research the safety of nuclear power plants.

2. Chernobyl was a nuclear power plant disaster. Research and summarize the event.

3. Choose one location: a store, your home, a theater, or your school. Draw a diagram demonstrating an evacuation plan for the location.



---
Weekly Reading Books
---
Feedback on Neighbors Living Near a Nuclear Power Plant


---
More Lessons



Copyright © 2018 edHelper