'); } var S; S=topJS(); SLoad(S); //-->
---
A Tale of Deforestation


Print A Tale of Deforestation Reading Comprehension with Fourth Grade Work

Print A Tale of Deforestation Reading Comprehension with Fifth Grade Work

Print A Tale of Deforestation Reading Comprehension with Sixth Grade Work

Print A Tale of Deforestation Reading Comprehension



Reading Level

| | | |
| --- | --- | --- |
| | edHelper's suggested reading level: | grades 4 to 6 |
| | Flesch-Kincaid grade level: | 7.33 |

Vocabulary

| | | | |
| --- | --- | --- | --- |
| | challenging words: | | humankind, replenish, subsistence, tremendous, acceptable, agriculture, tropical, logging, production, worldwide, survival, destruction, conservation, latex, rainfall, showers |
| | content words: | | South America |
---
A Tale of Deforestation
By Jennifer Kenny
---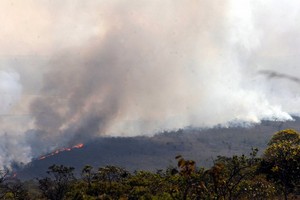 1 In the tropical rainforest of South America, Miguel is studying a global issue. That issue is deforestation and its impact on the world. Does it seem unlikely that an event in a rainforest far away could have an effect anywhere else? It may seem unlikely, but it is true.

2 Do you know what deforestation means? It is the permanent destruction of forests and woodlands. Most deforestation in the world takes place in the tropical areas of Latin and South America, Asia, and Africa. There's a real concern that tropical rainforests could disappear by 2050 unless they are protected.

3 Miguel has witnessed several things that he feels cause deforestation. He has seen farming in poor and overpopulated areas. This is basically subsistence agriculture for survival. The poor move into a forest area. They slash and burn the trees to remove them. The ash is fertilizer. This method also gets rid of the parasites. Soon after farming this patch of land, they often need to move and repeat the process.

Paragraphs 4 to 8:
For the complete story with questions: click here for printable


Extended Activities:

1. Research one animal or plant that lives in the rainforest. Draw a picture of it and give a one page description of its life.

2. Research one issue about deforestation. Offer two solutions to counteract it.



---
Weekly Reading Books
---
Feedback on A Tale of Deforestation


---
More Lessons



Copyright © 2018 edHelper