'); } var S; S=topJS(); SLoad(S); //-->
---
Preserving the Shining Sea from Ocean Pollution


Print Preserving the Shining Sea from Ocean Pollution Reading Comprehension with Fourth Grade Work

Print Preserving the Shining Sea from Ocean Pollution Reading Comprehension with Fifth Grade Work

Print Preserving the Shining Sea from Ocean Pollution Reading Comprehension with Sixth Grade Work

Print Preserving the Shining Sea from Ocean Pollution Reading Comprehension



Reading Level

| | | |
| --- | --- | --- |
| | edHelper's suggested reading level: | grades 4 to 6 |
| | Flesch-Kincaid grade level: | 6.29 |

Vocabulary

| | | | |
| --- | --- | --- | --- |
| | challenging words: | | cross-section, frolic, half-century, leaded, Long-armed, long-fanged, noxious, sharp-toothed, under-bites, uninhabited, reproductive, toxin, scuba, element, mines, poisonous |
| | content words: | | Twilight Zone, Exxon Valdez |
---
Preserving the Shining Sea from Ocean Pollution
By Colleen Messina
---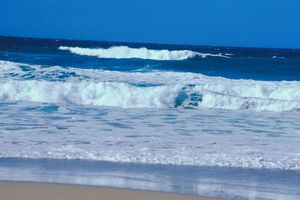 1 "From sea to shining sea" is a phrase from America the Beautiful, but what happens if the sea isn't shiny and clean anymore? Ocean pollution is a serious problem. It affects many kinds of marine life. Ocean pollution affects people, too.

2 Oceans cover about 70 percent of Earth's surface. If you slice through a cross-section of the water, the ocean looks like a blue layer cake. The top layer is called the sunlight zone. This clear, blue zone is only about 600 feet deep. Plants grow well in the sunlight zone because there is enough light for photosynthesis.

3 Many fish and animals thrive in the sunlight zone. Jellyfish jiggle and bob in this sparkling layer as stingrays glide gracefully by. Tuna, turtles, and seals play and frolic there, too. The sunlight layer is a fun place to be! If you decided to go scuba diving, you would play in the sunlight layer, too.

4 The second layer of the ocean is dark and murky. It is called the twilight zone. The strange fish and animals there don't mind darkness, cold temperatures, and high pressure. Creepy, long-fanged Viperfish and Ratchet fish look as though they belong on The Twilight Zone. They look more like monsters than fish. With their sharp-toothed under-bites, they could probably use an appointment with an underwater orthodontist. Long-armed squid and octopus also live in the twilight zone. Some of these creatures create their own eerie green light in their bodies so that they can see.

5 The next layer of the ocean, or the midnight zone, is pitch black and almost uninhabited. Some of the creatures that can survive at that depth don't even have eyes. Scientists also have names for the other layers down to the very deepest parts of the oceans. These zones go deep into the trenches at the bottom of the ocean floor. They are still mysterious, even to scientists who study them.

Paragraphs 6 to 11:
For the complete story with questions: click here for printable


Extended Activities:

1. Design an ocean life mural showing the three layers of the ocean and some creatures that live in each layer. You can do additional research to learn about what kinds of fish and animals belong in each layer.

2. Recycling can play an important role in saving the ocean. Research recycling programs in your community and give a short presentation to your class about them.



---
Weekly Reading Books
---
Feedback on Preserving the Shining Sea from Ocean Pollution


---
Water Cycle


---
More Lessons


---
Science





Copyright © 2017 edHelper