'); } var S; S=topJS(); SLoad(S); //-->
---
A Story of Anti-Personnel Mines: Maria's Story


Print A Story of Anti-Personnel Mines: Maria's Story Reading Comprehension with Sixth Grade Work

Print A Story of Anti-Personnel Mines: Maria's Story Reading Comprehension




Reading Level

| | | |
| --- | --- | --- |
| | edHelper's suggested reading level: | grades 6 to 8 |
| | Flesch-Kincaid grade level: | 6.73 |

Vocabulary

| | | | |
| --- | --- | --- | --- |
| | challenging words: | | humanitarian, impassable, anti-personnel, clearing, civilian, guerilla, hazardous, wounded, operate, mines, prosthesis, soldier, minimum, camps, explosion, hopeless |
| | content words: | | Revolutionary Armed Forces |
---
A Story of Anti-Personnel Mines: Maria's Story
By Jennifer Kenny
---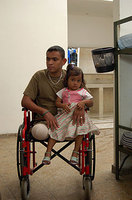 1 Caption: A soldier who was mutilated by a land mine with his daughter in Bogota, Colombia.

2 Maria is a child. She likes to play. She likes to be with her family. She likes to be outside. These are probably things that you enjoy, too. There's one big difference between Maria and most of the children in the world, though. Maria lost both her leg and her father. How did these things happen? She lost both in an anti-personnel mine accident.

3 When you run around outside, you have to be careful not to trip on a rock, not to step on broken glass, or not get a splinter in your foot. Maria has to worry about stepping on something a lot more dangerous - a mine.

4 Maria lives in a small village in a country called Colombia. Anti-personnel mines are hidden throughout Colombia. They are used as weapons. Unlike guns, though, that need a person to use them, anti-personnel mines activate when someone steps on it. Land mines are hidden - on the ground or just below the ground. It doesn't matter who steps on it; the land mine can't tell the difference. The victim could be a soldier, an older civilian, or even a child. Once detonated, a land mine can cause severe injuries to the victim.

5 Maria could share the stories of many victims. In Maria's case, she and her father were walking near their home. One of them triggered the hidden land mine. Maria's father died right away. Maria lost her leg. She was lucky that a friend could get her to the hospital; otherwise, she might have died as well. Maria needed many operations to help her heal. Maria is still waiting for a prosthesis to take the place of her lost leg. Since she is still growing, she will continually need new ones to fit her as she grows.

Paragraphs 6 to 13:
For the complete story with questions: click here for printable


Extended Activities:

1. Create a poster creating awareness of land mines.

2. Research another country that has a land mine problem.

3. Research the role of prostheses.



---
Weekly Reading Books
---
Feedback on A Story of Anti-Personnel Mines: Maria's Story


---
More Lessons



Copyright © 2018 edHelper