'); } var S; S=topJS(); SLoad(S); //-->
---
Spider or Insect?


Print Spider or Insect? Reading Comprehension with Second Grade Work

Print Spider or Insect? Reading Comprehension with Third Grade Work

Print Spider or Insect? Reading Comprehension with Fourth Grade Work

Print Spider or Insect? Reading Comprehension



Reading Level

| | | |
| --- | --- | --- |
| | edHelper's suggested reading level: | grades 2 to 4 |
| | Flesch-Kincaid grade level: | 2.06 |

Vocabulary

| | | | |
| --- | --- | --- | --- |
| | challenging words: | | lasso, nids, spiderlings, thorax, abdomen, lays, adult, bridges, glide, molt, eggs, several, ticks, silk, through, spin |
---
Spider or Insect?
By Cindy Grigg
---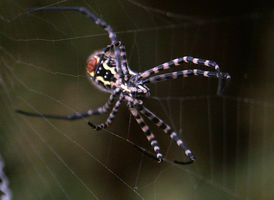 1
Spiders are arachnids (ah RACK nids). They are related to ticks. Arachnids have eight legs. Most spiders have eight eyes, too. Spiders are NOT insects.
2
Insects only have six legs. Insects have three body parts. Insects have a head, a middle part called a thorax, and an abdomen. Spiders only have a head and an abdomen. Insects have antennae on their heads. Spiders do not.
3
All spiders eat meat. They are carnivores. They mostly eat insects. All spiders can spin silk.
Paragraphs 4 to 8:
For the complete story with questions: click here for printable
---
Weekly Reading Books
---
Feedback on Spider or Insect?


---
More Lessons



Copyright © 2018 edHelper