'); } var S; S=topJS(); SLoad(S); //-->
---
Lenora Learns About Italy's Art Issue


Print Lenora Learns About Italy's Art Issue Reading Comprehension with Sixth Grade Work

Print Lenora Learns About Italy's Art Issue Reading Comprehension




Reading Level

| | | |
| --- | --- | --- |
| | edHelper's suggested reading level: | grades 6 to 8 |
| | Flesch-Kincaid grade level: | 9.07 |

Vocabulary

| | | | |
| --- | --- | --- | --- |
| | challenging words: | | art-filled, spokespeople, telethon, restoration, continuation, dating, dynamite, celebrity, restorers, further, cultural, conservation, priceless, historical, historic, generally |
| | content words: | | Leaning Tower, Even Lenora, Italian Ministry, Getty Museum, United States, Omero Museum, Le Marche, Palazzo Palavicini, Palatine Hill |
---
Lenora Learns About Italy's Art Issue
By Jennifer Kenny
---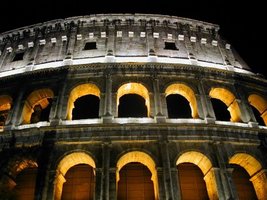 1 Caption: The Colosseum in Rome at night

2 Lenora loves to draw. She loves to paint. She loves to see ancient pieces in museums. She loves to visit historical sites. She generally loves art. Growing up in a country such as Italy has given her many experiences.

3 Italy is known for its arts and architecture dating back a long, long time. It has famous art-filled sites in places such as Rome, Florence, Naples, and Pienza. Italy is known for Michelangelo and Leonardo da Vinci. Italy is famous for the Colosseum, the Leaning Tower of Pisa, and so many other historic sites. You may know this already from what you've learned from your parents, TV, books, or school. What you may not realize is that Italy is experiencing some real troubles in the art world. Much of Italy's art needs better protection since many pieces have been stolen. In addition, many pieces and even entire historical sites have been crumbling and are in desperate need of restoration. You may wonder why, in a nation with such an incredible history of art, the problem isn't being handled. The bottom line is money. Even Lenora, growing up in this cultural environment, found this hard to understand.

Paragraphs 4 to 10:
For the complete story with questions: click here for printable


Extended Activities:

1. Research a famous artist from Italy. Create a poster using a similar technique the artist used.

2. Find out about an area needing cleaning up or restoring in Italy. Write a paper about its history.

3. Create a travel guide for a popular spot in Italy.



---
Weekly Reading Books
---
Feedback on Lenora Learns About Italy's Art Issue


---
More Lessons



Copyright © 2018 edHelper