'); } var S; S=topJS(); SLoad(S); //-->
---
Young Immigrants and Crime in Germany - What Is the Connection?


Print Young Immigrants and Crime in Germany - What Is the Connection? Reading Comprehension with Sixth Grade Work

Print Young Immigrants and Crime in Germany - What Is the Connection? Reading Comprehension




Reading Level

| | | |
| --- | --- | --- |
| | edHelper's suggested reading level: | grades 6 to 8 |
| | Flesch-Kincaid grade level: | 9.52 |

Vocabulary

| | | | |
| --- | --- | --- | --- |
| | challenging words: | | xenophobia, communist, housing, unemployment, unification, economic, nation, asylum, society, citizenship, tolerance, immigration, rates, criminal, generally, originally |
| | content words: | | Czech Republic, Eastern European, Sri Lanka, Many Germans, Even Eastern German, Chancellor Merkel |
---
Young Immigrants and Crime in Germany - What Is the Connection?
By Jennifer Kenny
---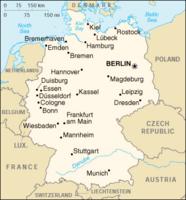 1 Germany is a nation in Europe. It is bordered by Austria, Belgium, the Czech Republic, Denmark, France, Luxembourg, the Netherlands, Poland, and Switzerland. It has the largest economy in Europe. It is the second most populated country there as well. As of July 2007, it had an estimated population of more than 82,000,000 people. This includes more than 6.8 million registered foreigners. The largest group of foreigners is the Turks; the next largest group comes from Yugoslavia.

2 Much of the foreign population is concentrated in certain city areas. Foreign residents play an important role in certain areas of the economy. Foreigners pay more in taxes than natives. They have a higher birth rate than the native Germans as well.

3 The history of migration to Germany has been an interesting one. When the Eastern European communist governments fell apart, ethnic Germans from Kazakhstan, Ukraine, Russia, and Romania came to Germany where they gained instant citizenship. In the late 1980s and early 1990s, thousands of people each year sought political asylum from places such as Sri Lanka, Lebanon, and west Africa.

Paragraphs 4 to 10:
For the complete story with questions: click here for printable


Extended Activities:

1. Research the history of immigration in Germany. What positive things do immigrants add to the country? What difficulties have been associated with immigrants in the country?

2. Research the welfare system in Germany.

3. Draw a map outlining Germany. Identify the bordering nations.

4. West Germany and East Germany were unified. Read an encyclopedia article to find out why they weren't always one country.



---
Weekly Reading Books
---
Feedback on Young Immigrants and Crime in Germany - What Is the Connection?


---
More Lessons



Copyright © 2018 edHelper