'); } var S; S=topJS(); SLoad(S); //-->
---
The Gang's All Here!


Print The Gang's All Here! Reading Comprehension with Fourth Grade Work

Print The Gang's All Here! Reading Comprehension with Fifth Grade Work

Print The Gang's All Here! Reading Comprehension with Sixth Grade Work

Print The Gang's All Here! Reading Comprehension



Reading Level

| | | |
| --- | --- | --- |
| | edHelper's suggested reading level: | grades 4 to 6 |
| | Flesch-Kincaid grade level: | 5.18 |

Vocabulary

| | | | |
| --- | --- | --- | --- |
| | challenging words: | | African-Americans, bandannas, drive-by, initiation, mexican, mostly-white, rough-rider, unlawful, assault, brim, enforcement, self-defense, identify, distinct, definition, violent |
| | content words: | | United States, American Revolution, James Gang, Wild West, New York City, Dead Rabbits, Plug Uglies, West Coast, Black Gangsters, Civil Rights |
---
The Gang's All Here!
By Colleen Messina
---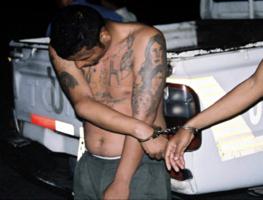 1 An old song begins with the phrase, "Hail, hail, the gang's all here!" In this song, "the gang" meant a group of friends. Having everyone together meant happy times. Today's gangs are not happy groups. Today's gangs cause trouble in many ways. Gangs hurt their members. They hurt their communities.

2 The common definition of a gang has changed. One definition of the word "gang" is this: "a group of persons working to unlawful or antisocial ends."

3 Gangs have been around for a long time in the United States. Some have been traced back to the days following the American Revolution. In the 1800s, rough-rider Billy the Kid and the James Gang roamed the Wild West. Irish immigrants formed gangs in the early 19th century in New York City. Some of these gangs had crazy names, such as the WhyOs, the Dead Rabbits, and the Plug Uglies. By the 1920s and 1930s, many young immigrants formed violent street gangs. The city of Chicago alone had over 1,300 dangerous gangs.

Paragraphs 4 to 9:
For the complete story with questions: click here for printable


Extended Activities:

1. Research stories about gangs in your local newspaper. Have there been any reports of gangs in your city or town? If so, what kinds of activities was the gang involved in? Did the results of your research surprise you?

2. Design a poster that would be hung in schools to deter kids from joining gangs. What activities would you suggest that kids do instead of joining a gang?



---
Weekly Reading Books
---
Feedback on The Gang's All Here!


---
More Lessons



Copyright © 2018 edHelper