'); } var S; S=topJS(); SLoad(S); //-->
---
The Fox and the Grapes


Print The Fox and the Grapes Reading Comprehension with Second Grade Work

Print The Fox and the Grapes Reading Comprehension with Third Grade Work

Print The Fox and the Grapes Reading Comprehension



Reading Level

| | | |
| --- | --- | --- |
| | edHelper's suggested reading level: | grades 2 to 3 |
| | Flesch-Kincaid grade level: | 2.12 |

Vocabulary

| | | | |
| --- | --- | --- | --- |
| | challenging words: | | arbor, padded, sooth, ceiling, faster, heat, center, reach, toward, shade, across, easy, since, ripe, shady, thirsty |
---
The Fox and the Grapes
By Brenda B. Covert
---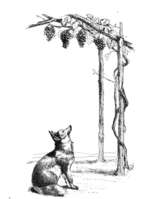 1
The sun shone in the summer sky. It warmed the fox's fur coat. The heat made the fox look for a shady place to rest.
2
The fox padded across a field. He entered an orchard. There were trees that offered shade. The fox panted as he searched for a soft, quiet place to lie down.
3
In the middle of the orchard stood a grape arbor. Grape vines grew up to the top and made a ceiling of leaves and grapes. The fox spied a ripe bunch of grapes hanging down in the center of the arbor.
Paragraphs 4 to 10:
For the complete story with questions: click here for printable
---
Weekly Reading Books
---
Feedback on The Fox and the Grapes


---
More Lessons



Copyright © 2018 edHelper