'); } var S; S=topJS(); SLoad(S); //-->
---
Groundhog Day!


Print Groundhog Day! Reading Comprehension with Second Grade Work

Print Groundhog Day! Reading Comprehension with Third Grade Work

Print Groundhog Day! Reading Comprehension with Fourth Grade Work

Print Groundhog Day! Reading Comprehension




A Very Quick Reader

Reading Level

| | | |
| --- | --- | --- |
| | edHelper's suggested reading level: | grades 2 to 4 |
| | Flesch-Kincaid grade level: | 4.58 |

Vocabulary

| | | | |
| --- | --- | --- | --- |
| | challenging words: | | yearly, based, ever, animal, have, shadow, change, stories, length, possible, year, second, people, gather, weather, believe |
| | content words: | | Groundhog Day, Punxsutawney Phil |

Other Languages
Spanish: ĦEl Día de la Marmota!


---
Groundhog Day!
By Erin Horner
---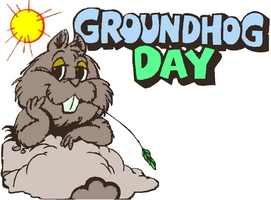 1
Have you ever met a talking animal? How about an animal that can predict the weather? Did you know that some people believe that a groundhog can do both? Every year on February second many people celebrate Groundhog Day. On this day, people gather to hear from a special talking groundhog. His name is Punxsutawney Phil. He is the star of this yearly custom. At 7:45 a.m. Phil emerges from his burrow and looks for his shadow. Then he whispers his weather prediction to the town's leaders. This fun tradition is based on an old story. Long ago old stories taught people to believe that it was possible for animals to predict the length of winter. The stories stated that if a groundhog came out of his burrow and saw his shadow, then winter would last for six more weeks. If a groundhog popped up and
.....For the complete story with questions: click here for printable
---
Weekly Reading Books
---
Feedback on Groundhog Day!


---
Groundhog Day


---
More Lessons



Copyright © 2018 edHelper