'); } var S; S=topJS(); SLoad(S); //-->
---
Talk About A Tongue!


Print Talk About A Tongue! Reading Comprehension with Fifth Grade Work

Print Talk About A Tongue! Reading Comprehension with Sixth Grade Work

Print Talk About A Tongue! Reading Comprehension




A Very Quick Reader

Reading Level

| | | |
| --- | --- | --- |
| | edHelper's suggested reading level: | grades 5 to 6 |
| | Flesch-Kincaid grade level: | 4.61 |

Vocabulary

| | | | |
| --- | --- | --- | --- |
| | challenging words: | | long-necked, proportionate, relatively, prickly, perfectly, acacia, beware, handy, being, without, human, person, thorny, tasty, ever, meal |

Other Languages
Spanish: ¡Hablemos sobre una lengua!


---
Talk About A Tongue!
By Erin Horner
---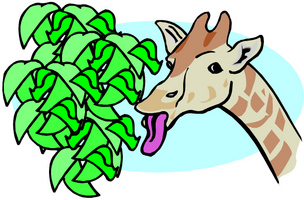 1 Stick out your tongue (but not at the person sitting next to you!). How long do you think your tongue is? Two inches? Maybe three? Human tongues are relatively small. But giraffe tongues are very long. A giraffe's tongue is approximately one inch long for every foot it is tall. That means that an eighteen-foot tall giraffe's tongue is about eighteen inches long! These long tongues come in handy out in the wild. Giraffes are herbivores. They eat the leaves from many different trees and bushes. One of their favorite foods is found on the thorny acacia tree. A giraffe will gracefully wrap its long tongue around the branches of this prickly tree. He then maneuvers his tongue so that he can pull off the tasty leaves. .....
For the complete story with questions: click here for printable


---
Weekly Reading Books
---
Feedback on Talk About A Tongue!


---
Mammals


---
Grasslands



---
Animals



Copyright © 2017 edHelper