'); } var S; S=topJS(); SLoad(S); //-->
---
Mr. Penguin, Watch that Egg!


Print Mr. Penguin, Watch that Egg! Reading Comprehension with Second Grade Work

Print Mr. Penguin, Watch that Egg! Reading Comprehension with Third Grade Work

Print Mr. Penguin, Watch that Egg! Reading Comprehension with Fourth Grade Work

Print Mr. Penguin, Watch that Egg! Reading Comprehension




A Short Reader

Reading Level

| | | |
| --- | --- | --- |
| | edHelper's suggested reading level: | grades 2 to 4 |
| | Flesch-Kincaid grade level: | 1.21 |

Vocabulary

| | | | |
| --- | --- | --- | --- |
| | challenging words: | | brood, yellow-eyed, penguin, pouch, belly, lays, shuffle, chick, caption, mothers, heat, eggs, parent, sticks, fluffy, also |
| | content words: | | New Zealand |

Other Languages
Spanish: Señor Pingüino: íCuíde su huevo!


---
Mr. Penguin, Watch that Egg!
By Colleen Messina
---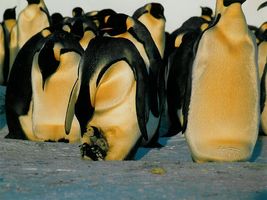 1
Caption: emperor penguin feeding a chick
2
Parents are proud of their babies. They take care of them. Birds take care of their babies, too. This starts right away. They first take care of their eggs. Then they take care of their chicks.
3
Some birds lay eggs in a nest. The mother sits on the eggs. Then the eggs hatch. Penguins have a different system. Not all penguins have nests. The parents watch the eggs. Dads sometimes take a turn. The mothers say, "Mr. Penguin, watch that egg!" The mother takes a break. Do you think the mother penguins like having help?
Paragraphs 4 to 7:
For the complete story with questions: click here for printable
---
Weekly Reading Books
---
Feedback on Mr. Penguin, Watch that Egg!


---
Birds


---
Polar Regions


---
More Lessons



---
Animals



Copyright © 2018 edHelper