'); } var S; S=topJS(); SLoad(S); //-->
---
Tooth-Walkers


Print Tooth-Walkers Reading Comprehension with Third Grade Work

Print Tooth-Walkers Reading Comprehension with Fourth Grade Work

Print Tooth-Walkers Reading Comprehension with Fifth Grade Work

Print Tooth-Walkers Reading Comprehension




A Short Reader

Reading Level

| | | |
| --- | --- | --- |
| | edHelper's suggested reading level: | grades 3 to 5 |
| | Flesch-Kincaid grade level: | 2.6 |

Vocabulary

| | | | |
| --- | --- | --- | --- |
| | challenging words: | | bellow, tooth-walkers, snort, mammal, wrinkles, large, blubber, body, nickname, male, walrus, hides, itself, sounds, near, skin |
| | content words: | | Arctic Circle |

Other Languages
Spanish: Las Morsas


---
Tooth-Walkers
By Jody Williams
---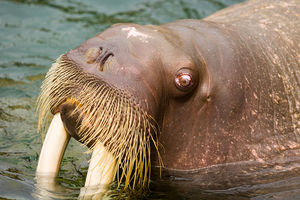 1
I am a mammal. I am large. My body has a lot of blubber. I use my teeth to help me. What am I?
I am a walrus.
2
Walruses are found in the Arctic region. They are usually seen lying on the ice in groups. They make loud sounds. People say they bellow. They also snort at each other. That is how they communicate.
3
Walruses have brown and pink hides. They look like they have wrinkles. They have flat flippers. They have whiskers around their mouths. Walruses are known for having long white tusks. Male and female walruses have tusks. The tusks help the walruses survive in the Arctic. The tusks help the walruses break breathing holes in the ice. The walrus uses its tusks to pull itself out of the water. That is it got the nickname, "tooth-walker."
Paragraphs 4 to 5:
For the complete story with questions: click here for printable
---
Weekly Reading Books
---
Feedback on Tooth-Walkers


---
Mammals


---
Oceans


---
More Lessons



---
Animals



Copyright © 2018 edHelper