'); } var S; S=topJS(); SLoad(S); //-->
---
Boom! Crash! What's That Noise?


Print Boom! Crash! What's That Noise? Reading Comprehension with Second Grade Work

Print Boom! Crash! What's That Noise? Reading Comprehension with Third Grade Work

Print Boom! Crash! What's That Noise? Reading Comprehension with Fourth Grade Work

Print Boom! Crash! What's That Noise? Reading Comprehension




A Short Reader

Reading Level

| | | |
| --- | --- | --- |
| | edHelper's suggested reading level: | grades 2 to 4 |
| | Flesch-Kincaid grade level: | 2.42 |

Vocabulary

| | | | |
| --- | --- | --- | --- |
| | challenging words: | | bolt, pounding, bowling, seconds, travels, outside, rooftop, follow, rain, through, flash, mile, dangerous, thunder, huge, sound |
---
Boom! Crash! What's That Noise?
By Erin Horner
---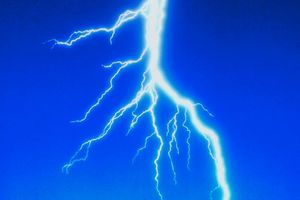 1
It was pouring outside! The rain was pounding on the rooftop. Matt peeked through his blankets and saw a bright flash outside. Then he closed his eyes and tried to sleep. Suddenly he heard a huge boom! What was that noise? Had a tree fallen? Was the roof breaking? Was someone bowling up in the clouds? No, it was just a clap of thunder.
2
The bright light that Matt saw was lightning. The loud boom that he heard was thunder. Thunder and lightning go hand-in-hand. You can't have thunder without lightning. Lightning is very hot. When a bolt flashes in the sky, it makes the air explode. Thunder is the sound made by the exploding air.
Paragraphs 3 to 4:
For the complete story with questions: click here for printable
---
Weekly Reading Books
---
Feedback on Boom! Crash! What's That Noise?


---
Weather


---
More Lessons


---
Science





Copyright © 2018 edHelper