'); } var S; S=topJS(); SLoad(S); //-->
---
Toss that Pizza Dough!


Print Toss that Pizza Dough! Reading Comprehension with Third Grade Work

Print Toss that Pizza Dough! Reading Comprehension with Fourth Grade Work

Print Toss that Pizza Dough! Reading Comprehension with Fifth Grade Work

Print Toss that Pizza Dough! Reading Comprehension



Reading Level

| | | |
| --- | --- | --- |
| | edHelper's suggested reading level: | grades 3 to 5 |
| | Flesch-Kincaid grade level: | 2.34 |

Vocabulary

| | | | |
| --- | --- | --- | --- |
| | challenging words: | | flatter, roly-poly, shortcuts, wobbly, easy, recipe, pre-made, squishy, working, surface, shoulder, rise, parlor, pizza, presses, often |
| | content words: | | Chef Bob |
---
Toss that Pizza Dough!
By Colleen Messina
---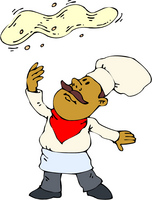 1
Pizza is easy to eat! It is gooey and delicious. Making a pizza takes skill. One part of the process is making the dough into a round, thin shape. Chefs often toss the dough into the air to make this shape! Tossing pizza dough takes practice.
2
Where do chefs get their pizza dough? Some chefs use pre-made dough. Another choice is to make the dough from scratch. This means that the chef does not use a prepared mix or other shortcuts. There are many pizza dough recipes. The basic recipe usually consists of flour, salt, oil, a sweetener, and water. Yeast is also added. Yeast makes the dough rise. This means that the dough swells up and gets bigger.
3
Let's peek over the shoulder of a chef in a pizza parlor. Chef Bob is his name. He is a roly-poly man who loves pizza! After making the dough, Chef Bob puts it on a floured work surface. He puts flour on his hands, too. The flour makes the dough less sticky. The dough can feel squishy. He makes the dough into a ball. Then, he presses the ball down with his hands. Chef Bob forms the dough into a round, flat shape that is about 1/2 inch thick.
Paragraphs 4 to 6:
For the complete story with questions: click here for printable
---
Weekly Reading Books
---
Feedback on Toss that Pizza Dough!


---
Pizza



Copyright © 2018 edHelper