'); } var S; S=topJS(); SLoad(S); //-->
---
Weather - Choosing the Perfect Outfit!


Print Weather - Choosing the Perfect Outfit! Reading Comprehension with Second Grade Work

Print Weather - Choosing the Perfect Outfit! Reading Comprehension with Third Grade Work

Print Weather - Choosing the Perfect Outfit! Reading Comprehension with Fourth Grade Work

Print Weather - Choosing the Perfect Outfit! Reading Comprehension




A Short Reader

Reading Level

| | | |
| --- | --- | --- |
| | edHelper's suggested reading level: | grades 2 to 4 |
| | Flesch-Kincaid grade level: | 3.3 |

Vocabulary

| | | | |
| --- | --- | --- | --- |
| | challenging words: | | t-shirt, perfectly, weatherman, window, become, sweatshirt, springtime, rather, news, also, wonder, side, chilly, choice, clear, sweat |
---
Weather - Choosing the Perfect Outfit!
By Mary Perrin
---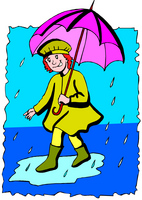 1
I am looking out the window as I eat breakfast. The sun is brightly shining. The sky is perfectly clear. I wonder what I am going to wear to school today. I make a choice about what I wear every day. Some days my mom checks the weather on the computer. Other days we watch the morning news to hear what the weatherman, or meteorologist, predicts. What I wear is important. I do not want to wear a sweatshirt if it will be hot outside. I will sweat all day. I do not want to wear shorts if it is going to be chilly outside. I will shiver all day. Each morning I try to find the perfect combination of clothes so I do not get too hot or too cold.
2
I finished my breakfast and took my bowl to the sink. Then I opened the
.....For the complete story with questions: click here for printable
---
Weekly Reading Books
---
Feedback on Weather - Choosing the Perfect Outfit!


---
More Lessons



Copyright © 2017 edHelper