'); } var S; S=topJS(); SLoad(S); //-->
---
Annie Wignall's Care Bags


Print Annie Wignall's Care Bags Reading Comprehension with Fourth Grade Work

Print Annie Wignall's Care Bags Reading Comprehension with Fifth Grade Work

Print Annie Wignall's Care Bags Reading Comprehension with Sixth Grade Work

Print Annie Wignall's Care Bags Reading Comprehension



Reading Level

| | | |
| --- | --- | --- |
| | edHelper's suggested reading level: | grades 4 to 6 |
| | Flesch-Kincaid grade level: | 4.76 |

Vocabulary

| | | | |
| --- | --- | --- | --- |
| | challenging words: | | educator, abuse, knowing, shocked, filling, appropriate, such, international, lived, often, reward, prevention, difference, meets, thousand, kinds |
| | content words: | | Annie Wignall, Care Bags, United States, Care Bags Foundation, Iowa Volunteer Hall, President Bush, Care Bag |
---
Annie Wignall's Care Bags
By Jody Williams
---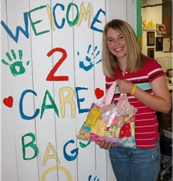 1
In January 2000, Annie Wignall was eleven years old. She lived in Iowa. Her mom was a child abuse prevention educator. She shared with Annie that many kids have to leave their homes if they are in danger. When they leave, they often have nothing. Annie was shocked. She could not imagine not having what she needed, like soap or her own toothbrush. Annie knew she wanted to help.
2
Annie came up with an idea. She believes that "every kid deserves to have the things they need." Annie's idea was to make cloth bags. Inside would be things that these children needed. Things such as toothpaste, soap, shampoo, books, toys, and other age appropriate items were included. She called them Care Bags. Annie told two local agencies about her idea. They liked the idea. At first, Annie promised to make twenty Care Bags each month. She got volunteers to sew the bags. She got donations from local businesses to fill the bags. Annie worked out of her home. The donations were stored there.
3
Annie's project grew. More agencies learned about Care Bags. She began getting requests for her bags. People around the world began to make donations. Care Bags outgrew Annie's home. The mayor of Annie's town wanted to help. He set up a local place for storing the items and filling the bags. This became Annie's headquarters.
Paragraphs 4 to 6:
For the complete story with questions: click here for printable
---
Weekly Reading Books
---
Feedback on Annie Wignall's Care Bags



Copyright © 2018 edHelper