'); } var S; S=topJS(); SLoad(S); //-->
---
Flying Snakes


Print Flying Snakes Reading Comprehension with Second Grade Work

Print Flying Snakes Reading Comprehension with Third Grade Work

Print Flying Snakes Reading Comprehension




A Short Reader

Reading Level

| | | |
| --- | --- | --- |
| | edHelper's suggested reading level: | grades 2 to 3 |
| | Flesch-Kincaid grade level: | 2.97 |

Vocabulary

| | | | |
| --- | --- | --- | --- |
| | challenging words: | | banded, ornate, parachute, paradise, poisonous, pose, twin-barred, venomous, wavy, focus, bats, lower, really, rainforest, faster, actually |
| | content words: | | Southeast Asia |
---
Flying Snakes
By Sheri Skelton
---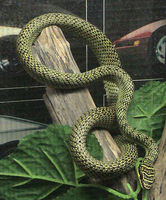 1
Can snakes really fly? Do snakes have wings? Of course not! However, there are snakes that appear to be flying through the air. These snakes are called flying snakes. They live in rainforest jungles in South and Southeast Asia.
2
There are five kinds of flying snakes. The three main kinds are the golden tree snake, the paradise tree snake, and the twin-barred tree snake. The golden tree snake is also called the ornate flying snake. It is the largest flying snake. It can grow to four feet long. The paradise tree snake may be as long as three feet. Its body is black with green scales. It may also have clusters of red, orange, and yellow scales on its back. The twin-barred tree snake is also called the banded flying snake. It is the smallest flying snake. It can grow to two feet long.
3
Flying snakes don't really fly. They are gliders. They parachute down through the air. Flying snakes can't fly upwards. To fly, the snake first must climb a tree. Then the snake slithers to the end of a branch. There it dangles itself in a J shape. The snake spots the place it wants to fly to and propels itself forward. The snake forms an S shape with its body. As it falls through the air, the snake flattens its body and moves in a wavy motion. The movement makes it seem that the snake is flying. Flying snakes can only move from a higher place to a lower place. They might fly from one tree to another. They might fly from a tree to the ground.
Paragraphs 4 to 5:
For the complete story with questions: click here for printable
---
Weekly Reading Books
---
Feedback on Flying Snakes


---
Reptiles


---
More Lessons



---
Animals



Copyright © 2017 edHelper