'); } var S; S=topJS(); SLoad(S); //-->
---
What Do You Know About the Moon?


Print What Do You Know About the Moon? Reading Comprehension with Second Grade Work

Print What Do You Know About the Moon? Reading Comprehension with Third Grade Work

Print What Do You Know About the Moon? Reading Comprehension with Fourth Grade Work

Print What Do You Know About the Moon? Reading Comprehension



Reading Level

| | | |
| --- | --- | --- |
| | edHelper's suggested reading level: | grades 2 to 4 |
| | Flesch-Kincaid grade level: | 3.3 |

Vocabulary

| | | | |
| --- | --- | --- | --- |
| | challenging words: | | asteroid, Cernan, comet, commander, extravehicular, schmitt, Scientist-Astronaut, rays, video, atmosphere, lighter, chunk, gravity, lower, stayed, waves |
| | content words: | | Photo Credit, Scientist-Astronaut Harrison H., Astronaut Eugene A. |
---
What Do You Know About the Moon?
By Cindy Grigg
---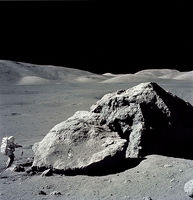 1
Photo Credit: NASA. Scientist-Astronaut Harrison H. Schmitt is photographed standing next to a huge, split boulder during the third Apollo 17 extravehicular activity (EVA-3) at the Taurus-Littrow landing site on the Moon. Schmitt is the Apollo 17 lunar module pilot. This picture was taken by Astronaut Eugene A. Cernan, commander.
2
Look up at night and the first thing you most likely see is the moon. What do you know about the moon?
3
How big is it? If the Earth were the size of a basketball, the moon would be about the size of a tennis ball or an apple. The moon looks a lot bigger than the stars, but it's just because the moon is closer to Earth than any star is.
4
How close to Earth is the moon? Not very close - almost a quarter million miles away!
Paragraphs 5 to 11:
For the complete story with questions: click here for printable
---
Weekly Reading Books
---
Feedback on What Do You Know About the Moon?


---
Moon


---
Solar System


---
Science





Copyright © 2018 edHelper