'); } var S; S=topJS(); SLoad(S); //-->
---
Ice Hockey


Print Ice Hockey Reading Comprehension with Second Grade Work

Print Ice Hockey Reading Comprehension with Third Grade Work

Print Ice Hockey Reading Comprehension with Fourth Grade Work

Print Ice Hockey Reading Comprehension




A Short Reader

Reading Level

| | | |
| --- | --- | --- |
| | edHelper's suggested reading level: | grades 2 to 4 |
| | Flesch-Kincaid grade level: | 2.27 |

Vocabulary

| | | | |
| --- | --- | --- | --- |
| | challenging words: | | smack, fast-paced, goaltender, padding, puck, rink, skaters, skates, across, goal, sport, sticks, during, goalie, offense, nearly |
| | content words: | | Winter Olympics |
---
Ice Hockey
By Erin Horner
---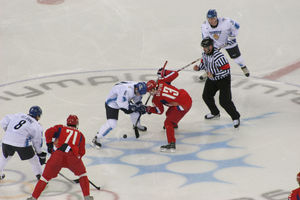 1
Smack! The puck zooms across the ice and sails into the net. Goal! The ice hockey game is off to a great start. Ice hockey is a popular sport in the Winter Olympics.
2
Ice hockey teams have many players. During a game, however, only six skaters on each team play at one time. One player is the goaltender. His job is to protect the net. He tries to keep the other team from scoring by blocking the puck. The goalie wears a lot of padding. This helps to protect him. He needs it! Hockey pucks are made of hard rubber. After being hit by a hockey stick, they can fly across the ice at nearly 150 miles per hour!
3
Three skaters work together to try to score. They play offense. They use their hockey sticks to pass the puck back and forth as they move towards the net. As they move down the ice, they do their best to try to hit the puck into the goal.
Paragraphs 4 to 5:
For the complete story with questions: click here for printable
---
Weekly Reading Books
---
Feedback on Ice Hockey


---
Sports


---
More Lessons



Copyright © 2018 edHelper