'); } var S; S=topJS(); SLoad(S); //-->
---
Life in a Tide Pool


Print Life in a Tide Pool Reading Comprehension with First Grade Work

Print Life in a Tide Pool Reading Comprehension with Second Grade Work

Print Life in a Tide Pool Reading Comprehension with Third Grade Work

Print Life in a Tide Pool Reading Comprehension



Reading Level

| | | |
| --- | --- | --- |
| | edHelper's suggested reading level: | grades 1 to 3 |
| | Flesch-Kincaid grade level: | 2.15 |

Vocabulary

| | | | |
| --- | --- | --- | --- |
| | challenging words: | | ever, arms, boulders, crabs, have, pools, rocks, starfish, tide, beach, able, among, animal, another, bathtub, behind |
---
Life in a Tide Pool
By Cindy Grigg
---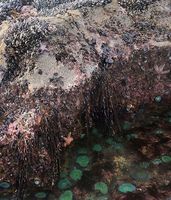 1
Have you ever been to the beach? Beaches are not the same. You may have gone to the beach to swim. It was probably a wide, sandy beach. Some beaches are rocky and narrow. They may have big rocks called boulders. They may have small rocks. Many animals live on rocky beaches.
2
Some creatures live in tide pools. These are small pools of water left behind after high tide. Some are the size of puddles. Some are the size of a bathtub. Water gets caught among the rocks. Small animals get caught in these pools. Tide pool creatures lead a special life. Their home is always changing. They must be able to live in the ocean and in a small pool.
3
In a tide pool, you might see a starfish. Starfish aren't really fish. They are a different kind of animal. A better name is for them is sea star. Sea stars are covered with spines on the outside. They have five arms. They have no heads or tails. A sea star's mouth is on the bottom of its body in the middle of the five arms. If an arm gets cut off or eaten, the sea star can grow a new one!
Paragraphs 4 to 7:
For the complete story with questions: click here for printable
---
Weekly Reading Books
---
Feedback on Life in a Tide Pool


---
Oceans


---
More Lessons



---
Animals



Copyright © 2018 edHelper