'); } var S; S=topJS(); SLoad(S); //-->
---
Grab, Run, Slide, the Skeleton Is Quite a Ride!


Print Grab, Run, Slide, the Skeleton Is Quite a Ride! Reading Comprehension with Second Grade Work

Print Grab, Run, Slide, the Skeleton Is Quite a Ride! Reading Comprehension with Third Grade Work

Print Grab, Run, Slide, the Skeleton Is Quite a Ride! Reading Comprehension with Fourth Grade Work

Print Grab, Run, Slide, the Skeleton Is Quite a Ride! Reading Comprehension




A Short Reader

Reading Level

| | | |
| --- | --- | --- |
| | edHelper's suggested reading level: | grades 2 to 4 |
| | Flesch-Kincaid grade level: | 3.93 |

Vocabulary

| | | | |
| --- | --- | --- | --- |
| | challenging words: | | breakneck, padding, racing, slider, speedy, spiked, hopefully, races, ever, seen, skeleton, onto, gear, glide, steer, have |
| | content words: | | Winter Olympic |
---
Grab, Run, Slide, the Skeleton Is Quite a Ride!
By Erin Horner
---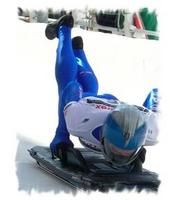 1
Have you ever seen a skeleton? Have you ever
ridden
one? Believe it or not, many people ride skeletons - but not the kind made of bones! A skeleton is a small sled that athletes ride. The skeleton is one Winter Olympic sport. Like the sled, this sport is called the skeleton. How did this sport get this name? Don't worry; it's not because early riders were only left with their bones after trying it out. The sport was first named the skeleton because the sled used looks a lot like one!
2
The skeleton is one of three sled races in the Olympics. This sled race has four steps. First, a slider grabs the handles of the sled. Next, he or she runs as fast as possible while pushing the sled. Then the slider dives onto the sled head first. Finally, it's time to slide. Sliders ride the sled on their stomachs. While sledding, they must try to steer their sled down the frozen track. They do this by gently shifting their bodies from side to side.
Paragraphs 3 to 4:
For the complete story with questions: click here for printable
---
Weekly Reading Books
---
Feedback on Grab, Run, Slide, the Skeleton Is Quite a Ride!


---
Sports


---
More Lessons



Copyright © 2018 edHelper