'); } var S; S=topJS(); SLoad(S); //-->
---
Dr. Seuss


Print Dr. Seuss Reading Comprehension with Second Grade Work

Print Dr. Seuss Reading Comprehension with Third Grade Work

Print Dr. Seuss Reading Comprehension with Fourth Grade Work

Print Dr. Seuss Reading Comprehension



Reading Level

| | | |
| --- | --- | --- |
| | edHelper's suggested reading level: | grades 2 to 4 |
| | Flesch-Kincaid grade level: | 3.09 |

Vocabulary

| | | | |
| --- | --- | --- | --- |
| | challenging words: | | cartoonist, maiden, persistence, publisher, successful, traveled, schools, time, lived, once, kids, jobs, working, doing, drawing, college |
| | content words: | | Howard Street, Theodor Geisel, World War I., United States, Standard Oil, Think That, Saw It, Mulberry Street, Theodor Seuss Geisel |
---
Dr. Seuss
By Brandi Waters
---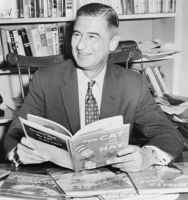 1
Once upon a time, there was a baby boy. His mother had a special way of helping him go to sleep. She chanted rhymes to him as he drifted off to sleep. Flowing words tumbled around in his mind. Her soothing voice and the rhythm of the words lulled the baby boy to sleep.
2
This baby boy was born more than one hundred years ago. He lived in Springfield, Massachusetts. He grew up in a house on Howard Street. He lived there with his mother, father, and his sister Marnie. His name was Theodor Geisel. He and his father shared the same first name, Theodor. Most people called him Ted. His middle name was Seuss. It was his mother's maiden name.
3
Theodor grew up during World War I. His family was from Germany. The Geisels did not agree with what the Germans were doing in the war. Still, there were people who did not like them because they were German. Theodor's parents didn't give up. They moved to the United States. They worked hard. Their hard work paid off. They became quite successful.
Paragraphs 4 to 8:
For the complete story with questions: click here for printable
---
Weekly Reading Books
---
Feedback on Dr. Seuss


---
Dr. Seuss


---
More Lessons



Copyright © 2018 edHelper