'); } var S; S=topJS(); SLoad(S); //-->
---
Same Old Season?


Print Same Old Season? Reading Comprehension with Second Grade Work

Print Same Old Season? Reading Comprehension with Third Grade Work

Print Same Old Season? Reading Comprehension with Fourth Grade Work

Print Same Old Season? Reading Comprehension




A Short Reader

Reading Level

| | | |
| --- | --- | --- |
| | edHelper's suggested reading level: | grades 2 to 4 |
| | Flesch-Kincaid grade level: | 3.75 |

Vocabulary

| | | | |
| --- | --- | --- | --- |
| | challenging words: | | hemisphere, shift, vibrant, axis, macaroni, piles, boring, nights, barefoot, exact, northern, cereal, change, also, through, enjoy |
| | content words: | | And Tuesday, North Pole |
---
Same Old Season?
By Erin Horner
---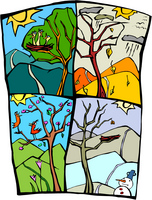 1
Mom said that we were having cereal for breakfast. Then she said we'd have peanut butter and jelly for lunch. Dinner was going to be macaroni and cheese. "Okay," I thought. "I like those foods." That was Monday. And Tuesday. And then again on Wednesday. We had the same foods every day all week long. Boring! Each of those foods is great, but I wanted something different. I was ready for a change. It reminded me of how I feel toward the end of each season.
2
Aren't you glad the seasons change? Fall is full of vibrant colors. Trees shed their leaves and create piles that beg me to jump in them. Winter brings chilly nights that are perfect for hot cocoa and marshmallows after an afternoon of sledding. Spring reminds us that the world is teeming with new life. Buds pop in the trees and bulbs long since forgotten spring forth from the ground as beautiful flowers. Summer is famous for long days and warm nights. Running barefoot through the grass and playing in the sprinklers cap off a morning of playing at the park and reading under the cool shade of a tree. Each season is full of change and full of fun! But if winter never ended and spring never sprung, I'd be sad. Wouldn't you?
3
The Earth spins on its axis each and every
.....For the complete story with questions: click here for printable
---
Weekly Reading Books
---
Feedback on Same Old Season?


---
Seasons


---
More Lessons


---
Science





Copyright © 2018 edHelper