'); } var S; S=topJS(); SLoad(S); //-->
---
My Single Mom


Print My Single Mom Reading Comprehension with Second Grade Work

Print My Single Mom Reading Comprehension with Third Grade Work

Print My Single Mom Reading Comprehension



Reading Level

| | | |
| --- | --- | --- |
| | edHelper's suggested reading level: | grades 2 to 3 |
| | Flesch-Kincaid grade level: | 2.57 |

Vocabulary

| | | | |
| --- | --- | --- | --- |
| | challenging words: | | name, online, meals, works, onto, dishwasher, working, bills, college, single, someday, fold, husband, money, microwave, couch |
| | content words: | | Someday Mom |
---
My Single Mom
By Brenda B. Covert
---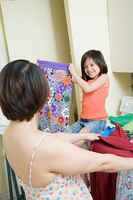 1
My name is Jenna. I have a mother. She is called a single mom. That means she doesn't have a husband. She has a job, she has school, and she has me.
2
Mom works hard to pay all our bills so that we have a nice place to live, food to eat, and gas for the car. When we need extra money, she gets a second job. She also takes some online classes for a college degree. She says that having a college degree will improve our lives, but it's a lot of hard work. Sometimes she is so tired after work and studying that she falls asleep on the couch! If that happens, I cover her with a plaid throw that we have. She will tell me later that the couch held onto her and wouldn't let her get up. Isn't that funny?
3
A lot of times our meals are fast thanks to the microwave, but on my birthday, my mom always bakes a cake for me. She lets me pick out the cake flavor and the color of the icing! I feel special when she does things like that for me.
Paragraphs 4 to 6:
For the complete story with questions: click here for printable
---
Weekly Reading Books
---
Feedback on My Single Mom


---
Mother's Day


---
More Lessons



Copyright © 2018 edHelper