'); } var S; S=topJS(); SLoad(S); //-->
---
It's Super Sockeye!


Print It's Super Sockeye! Reading Comprehension with Third Grade Work

Print It's Super Sockeye! Reading Comprehension with Fourth Grade Work

Print It's Super Sockeye! Reading Comprehension with Fifth Grade Work

Print It's Super Sockeye! Reading Comprehension




A Short Reader

Reading Level

| | | |
| --- | --- | --- |
| | edHelper's suggested reading level: | grades 3 to 5 |
| | Flesch-Kincaid grade level: | 3.79 |

Vocabulary

| | | | |
| --- | --- | --- | --- |
| | challenging words: | | hatchlings, phenomenal, sockeye, undergo, saltwater, species, freshwater, actually, fish, fertilize, adult, bury, male, against, downstream, eggs |

Other Languages
Spanish: ĄSupersalmón!


---
It's Super Sockeye!
By Erin Horner
---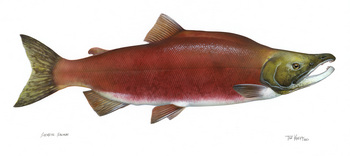 1 It's a saltwater fish. No, it's a freshwater fish. No, it's both! It's super sockeye! Did you know that sockeye salmon can live in the salty sea water of the ocean and in freshwater streams and rivers? It's true. They are one of the few species of fish that are able to live in both places.

2 Sockeye, and other types of salmon, are born in freshwater. Sockeye begin life as hatchlings. Then as baby fish, or fry, they live and grow in freshwater streams. After one to three years they have grown enough to make a big trip. The fish start to swim towards the ocean. As they swim downstream, their bodies undergo a chemical change. They become saltwater fish. Now they can survive in the ocean's salty seas. Adult sockeye live and swim in the ocean for a few years.

3 After a while, it is time for these fish make another trip. Believe it or not, these super salmon can remember the far away freshwater stream where they .....
For the complete story with questions: click here for printable


---
Weekly Reading Books
---
Feedback on It's Super Sockeye!


---
Fish


---
Freshwater


---
More Lessons



---
Animals



Copyright © 2018 edHelper