'); } var S; S=topJS(); SLoad(S); //-->
---
What Can a Horse Tail Tell You?


Print What Can a Horse Tail Tell You? Reading Comprehension with Second Grade Work

Print What Can a Horse Tail Tell You? Reading Comprehension with Third Grade Work

Print What Can a Horse Tail Tell You? Reading Comprehension with Fourth Grade Work

Print What Can a Horse Tail Tell You? Reading Comprehension




A Short Reader

Reading Level

| | | |
| --- | --- | --- |
| | edHelper's suggested reading level: | grades 2 to 4 |
| | Flesch-Kincaid grade level: | 3.42 |

Vocabulary

| | | | |
| --- | --- | --- | --- |
| | challenging words: | | greeting, nicker, tail-swishing, version, lower, droopy, pesky, feeling, clues, beautiful, doing, excited, neigh, figure, everybody, horse |
---
What Can a Horse Tail Tell You?
By Erin Horner
---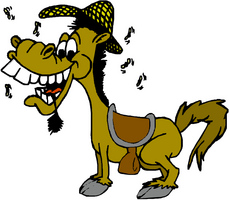 1
Horses are big, beautiful animals. They are fun to watch and fun to ride. Have you ever wondered what a horse is thinking? While they can't talk, they can communicate. They communicate with their handlers and with other horses by making noise. Horses neigh to find other horses. A neigh is a horse's way of saying, "Hi, everybody! I'm over here. Where are you?" They also nicker. A nicker is softer and lower than a neigh. It is a greeting. It's a horse's version of a friendly hello. Horses will nicker when they see their handlers. They will also nicker to other horses.
2
Horses also communicate using body language. You can often tell how a horse is feeling by watching its tail. When a horse's tail is high, he is happy. A high tail is his way of saying, "I'm excited and I have a lot of energy today!" A horse that has a droopy tail, on the other hand, is probably unhappy or tired. When a horse swishes its tail from side to side, watch out! He is either angry or trying to get
.....For the complete story with questions: click here for printable
---
Weekly Reading Books
---
Feedback on What Can a Horse Tail Tell You?


---
Mammals


---
More Lessons



---
Animals



Copyright © 2018 edHelper